This safari travels through some astoundingly scenic areas, including the Waterberg Plateau - a vast unspoiled widlerness park characterised by flamboyant sandstone formations and lush green vegetation. It is also an area of great historical significance. You will also explore the world-renowned Etosha National Park and ts abundant wildlife and variety of bird species.
DAY 1: SWAKOPMUND
Swakopmund is Namibia's premier seaside resort and resembles a Bavarian village with its many turn of the century buildings harking back to its German colonial past. Hedged by the desert and the wild Atlantic sea Swakopmund offers old-world charm, a relaxed atmosphere, fine cafes and restaurants. Meet your fellow travelers and Safari leader at 17.00 hours in the foyer of the Strand Hotel for a comprehensive safari briefing and dinner, which is for your own account. Ov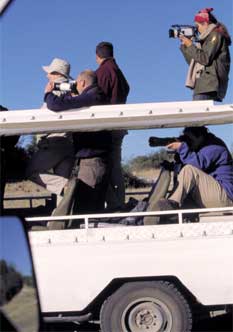 ernight Strand Hotel on a bed and breakfast basis.
DAY 2: WATERBERG PLATEAU
After an early breakfast we depart for Waterberg Plateau. Our route takes us through Karibib, known for its marble, and the pretty little town of Omaruru. Rising some 200m above a surrounding sea of bush and savannah, the Waterberg Plateau Park is recognisable from some distance away. Its imposing, flamboyant red sandstone formations and lush green vegetation present an island of vibrant colour, which seems to glow at sunrise and sunset. This vast pristine wilderness is home to a huge variety of plant species, 240 bird species, and rare and endangered species of game. It is also an area steeped in history as it was in the foothills of the Waterberg where the Herero people lost their greatest battle to the German colonial forces at the beginning of the century. Our exclusive campsite provides a shady refuge beautifully situated under a dense canopy of leadwood, camelthorn, and umbrella thorn trees. Kudu and the diminutive Damara Dik Dik frequent the area of the campsite, and leopard tracks have been seen on a number of occasions. A late afternoon walk for sundowners enjoyed at a vantage point on top of the Waterberg will afford us a truly magical view of the sandstone cliffs that are emblazoned with colourful splashes of lichen. Like a backdrop in the distance lie the flat plains of the Northern Kalahari.
DAY 3: WATERBERG PLATEAU
Today will be spent exploring the Waterberg Plateau on foot. In addition to bringing one closer to nature this is a wonderful way to observe and learn about the diverse bird and plant life that makes the Waterberg such a unique destination. An added bonus is the possibility that we may experience the thrill of seeing buffalo, and black or white rhino.
DAY 4: ETOSHA
Keeping to the country roads we make our way to our exclusive campsite at Fischer's Pan Game Reserve, which borders the eastern perimeter of the world renowned Etosha National Park only a couple of kilometres away from the Von Lindequist Gate. En route we will have the opportunity to visit the San (Bushman) community of Ombili. This was started as a self-help scheme, and visitors are invited to visit the local school and craft centre. In addition to its prime and secluded location our campsite is beautifully situated on the edge of a small vlei, which is surrounded by shady terminalia and tamboti trees. A variety of game, including leopard, roam awill in this area. Afternoon game-drive in the vicinity of Namutoni, which is characterised by the historic Beau Gestean fort.
DAY 5: ETOSHA
Etosha National Park covers 22 270 sq km of countryside ranging from dense bush to barren plains. The heart of the park is the Etosha Pan, meaning "Place of Dry Water", a vast, dry silvery-white shallow depression of shimmering mirages in the dry season but in a good rainy season home to flamingos, pelicans and many other water birds. Along the southern edge of the Pan perennial springs feed waterholes, which attract an abundance of mammal and bird species thus providing rewarding and often spectacular game viewing. The day is spent game viewing in Etosha National Park.
DAY 6: End of Tour
After a final early morning game drive and breakfast we return to Windhoek where we arrive during the late afternoon.